8 Days of Prayer
8 Days of Prayer
January 14 - 21, 2018

Important: This event has already occurred.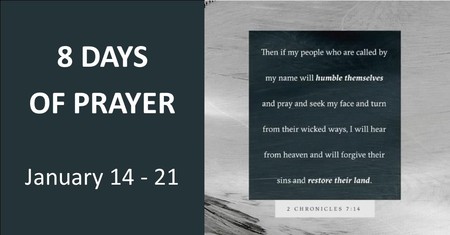 We will spend the eight days, from January 14-21 in prayer for our church and our community.
On Sunday January 14 at 6 p.m., we will have a Worship and Prayer night to kick off the 8 Days of Prayer.
During the week, each ofour Small Groups will meet at their regular meeting times to pray through the topics for prayer.
8 Days of Prayer will end with a "Household Communion" service on Sunday January 21st at 10:30 a.m.
A special "8 Days of Prayer" prayer guide is available at the Church, or you can dowload a copy here.
Return to Events
---