40 Days in the Word
40 Days in the Word
Sunday, October 8, 2017

Important: This event has already occurred.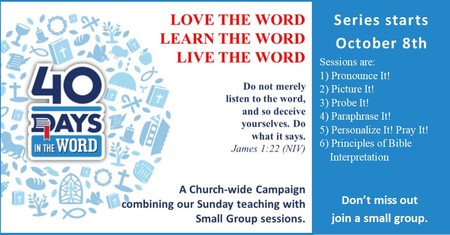 40 Days in the Word is a church-wide campaign designed to help you Love the Word, Learn the Word and Live the Word.
"The Bible isn't meant just to inform us, it is meant to transform us. 40 Days in the Word will teach you how to be not just a hearer of the Word, but a doer of the Word!" - Rick Warren-
This series will tie together our Sunday teaching with our Small Group discussions during the week.
We encourage you to test drive a small group during this 6 week series, so you can get the full value of this series.
40 Days in the Word starts on October 8th and will last for six weeks.
Return to Events
---